It has been a little while since my last blog and I have a bunch to cover. Since Egypt we went to Ethiopia and from there we ended up in Rwanda, Uganda, and eventually Kenya. We visited a different ministry with each country and who all have their own styles of ministry.
While trying not to be harsh; the larger ministries, such as AIM and SIM, have compounds to run their administration. These compounds seemed to have the administration completely expatriate. This had been going against my theology of mission; I see it optimally as locals inviting others to help them accomplish the great commission. What we do have is a compound mentality that may be detrimental to their ministries.
However there are other ministries that we visited that either were entirely run by locals, were local missionaries, or so integrated with the locals that it appeared to be entirely beneficial to the mission and the people. This was Trans World Radio, One Mission Society (TWR and OMS were in Kenya), and Hopethiopia Rwanda respectively.
In Rwanda we got close to the source of the ministries and got a real taste for what it was like to be a missionary there with the help of Glenda and Hopethiopia. We learned about the Genocide that occurred in Rwanda and had a chance to glimpse into the pain that almost everyone in that country held. We got treated as locals by the staff of Hopethiopia and were immersed in the culture. A thing to remember is that when you greet someone in Rwanda you hug them and immediately shake their hand afterwards.
Rwanda: a country of a million smiles.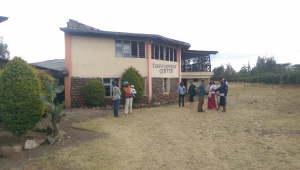 In Kenya we got to learn from Trans World Radio. They were an incredible bunch to get to know. We got to try a hand at recording for radio. This involved reading an info segment on contraceptives and having a group discussion about career choices. Afterwards we had a chance to cook Ugali (boiled corn meal) and Shuckemuweke (kale). We got to know the women that were cooking, during which I found out that my name in Kiswahili (or Swahili) is Demetrio. We also tried making some Kenyan tea, which is delicious.
As I write this I am half way across the Atlantic ocean on my way to my Brazil, where I will do my internship. This month has been one of the hardest in my life, just due to the responsibility of leading, stress of people, and missing my home–wherever or whoever that is. Please pray for my ability to do life in Brazil, to learn the language, and to help me connect with both the missionaries and the kids. I want to learn but also be a blessing.