Finishing in Brazil and going to Asia…
As I finish in Brazil, I look back at what has happened and what I have learned. At times Brazil has been very difficult like when I did not have any handle on my Portuguese. But these last few months I have been able to really enjoy Brazil and make the most out of it. I still think of the two boys that I wrote about in my last blog, Igor and Luis. Igor has actually ran away from home and is most likely involved in drug trafficking. I still have not learned anything about Luis — all I can do about that is hope he went home.
Saying goodbye yesterday on the street and today at Casa Semear, the after school program, has highlighted the differences between the kids on the street and the kids still at home.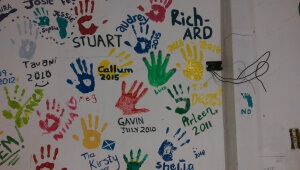 The street kids that knew me just said goodbye and shook my hand in the typical Brazilian way. I sort of got a hug out of one of the boys; but he was so out of it (because of paint thinner) he didn't even say anything.
Whereas at Semear I had a huge goodbye from the kids. It was almost a little overwhelming. They gave me hugs and said that they didn't want me to go. One girl even said, "You have to return, okay?" These are things you don't expect to happen when the majority of your connection has been outside of words especially for a Canadian. It has actually blown me away at the impact that I had.
Anyway this time has been good and I have come to really enjoy Brazil in my time here which makes the hard times worth it. I would encourage everyone to spend time in another country and to learn another language. You will be changed.
On Wednesday (April 6th) I fly to Bangkok, Thailand. I'm starting the last part of my nine month mission trip/internship. I'll be going to a number of countries, which aren't all set in stone yet. The first is Thailand and we will be doing a number of things, such as working with an organization called Remember Nhu in Chiang Mai. I will have to wait to find out what else we will be doing.
So you can pray for me and support me.
I haven't received a financial update in a little but I'm sure I'm still short of my goal. I need prayer for that and any help I can receive.
Prayer for the kids that they will find Jesus and choose the right things.
That the kids on the street can be convinced to either return home or to go to the shelter.
That in my travels and as I lead I can make the best decisions for the team and for myself.