About one month left in Brazil, then I am off to Asia for the final leg of the journey. The last little while has been really good and I feel like I'm actually getting the hang of things. It also feels like I'm getting into and understanding some of the harder things that are occurring.
I want to tell you about two boys that I have gotten to know a little bit here. The first is named Igor and the other is named Luís.
I'll start with Luís. He's younger, perhaps around 8 or 9 years old and he lives on the street. Luís is a novato, a newbie, on the street but he lies and says that he's been there for months so that nobody rejects him. He has no friends on the street, doesn't sniff paint thinner and when we talk to him he has to get permission to go play from a man that's always nearby.
While few these are signs of him being trafficked.
The second time I saw him he gave me a huge hug and we played badminton. This was the last time I saw him. I'm don't know what has or will happen to him.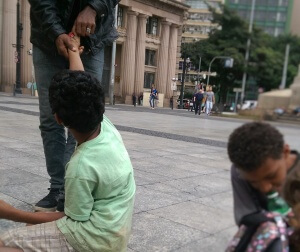 Igor is older, a teenager, and attends an ABBA prevention project. He has a brother that looks up to him, and he wants to work as a tio, or uncle, at the project. He's a hard boy and he sells and traffics drugs on the street and in the favela.
Yet he comes to the project everyday. God is bringing him there and we're getting opportunities to tell him about God, be good role models and more…
There are many more stories from the street and the projects and each child is different yet the same. They all have their own story but they all need God in their lives.
Although I am still relatively useless without adequate Portuguese I have made inroads. God has given me some opportunities to be a light in some of the kids lives. I get to go to two projects, one in a favela and the other in the street and have fun with kids.
Just as a quick summary of what's been happening.
I've been:
Having lots of Portuguese lessons and can have conversations with people
Working in a project in a favela that brings in about 80 kids daily and tells them about Jesus, teaches skills and has fun with them.
Going to the street and interacting with the street children. This has been good and hard as the kids are constantly high from various drugs and this means they're most likely unresponsive and likely to have short attention spans.
In about a month the team is meeting up again in Asia and I'll lead for one last leg in a few countries there.
Then in mid-May I'll be back in Canada.
How you can help:
Continue to pray for me to learn Portuguese and keep it up.
Pray for me to connect with the kids in the favela and the street.
Pray for the kids mentioned, Igor and Luís. Igor to get right with God and see that drugs aren't an answer. Luís to be able to go home or a shelter and protection as I don't know where he is
Pray for the other kids that attend the favela project. That the staff can connect with them and the kids can become disciples for God and get excited to know him.
Support financially as I am still short of my goal.
In anyone has questions about anything else don't hesitate to email or send a message.